Yua
Associated pages
Yua

(You are here)

Gallery
Yua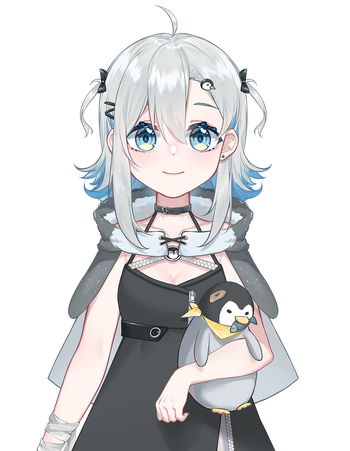 Basic Details
Original Name
悠亚
Debut Date
bilibili: 2020/09/30
Affiliation
VirtuaReal (NIJISANJI)
Media
Channel
bilibili
Social Media
Weibo
Twitter
Tape
Official Website
vrp.live
nijisanji.jp
Personal Details
Gender
Female
Age
[2]
16 years old
Birthday
[1]
19 August
Height
[1]
154 cm
Blood Type
[1]
Zodiac Sign
[1]
Leo
Emoji
🐧🛸
Yua (悠亚/Yōu yà) is a female Chinese Virtual UP (bilibili content creator) affiliated with VirtuaReal, NIJISANJI's Chinese Virtual Liver branch, as part of its tenth wave (aka 107) alongside Sirius, Reve and Shaun and (unofficially) Karon and Isabella.
Introduction Video
Profile
"
I absolutely cannot figure out you earthlings, ah!
"
~ Yua on vrp.live
Yua believes that all of humanity are complex and also uncute creatures, and has an enormous sense of fear and hatred towards them. She has already strategised multiple invasion plans trying to topple human governance, but they all ended up in failure. After unintentionally discovering the horrific thing about virtual streamers that almost made her lose her strategy, right away she cleverly determined a "become a virtual streamer to control earth's economic lifeline" plan.
To ensure the plan can be pulled off without a hitch, Yua infiltrated the home of a certain family in Asia and disguised herself as one of the members. She expanded her own social network rapidly through this identity and quickly developed her own social network. Through connecting with a certain secret society named VirtuaReal, Yua rapidly advanced her plan's schedule,without causing the slightest bit of suspicion from the other party.
Even though we don't know how much longer we'll be able to hold this alien who is suspected of being able to tamper with other people's memories, we firmly believe at least until the present, she still hasn't discovered we are pretending to not know she is deceiving us. But we cannot definitively think she does not know the fact we know her situation or whether she's deliberately letting us know.[3]
Personality
History
Background
On 20 September 2020, VirtuaReal's tenth wave was announced on bilibili and Twitter including Yua, along with a teaser image of their designs.[4]
On 25 September 2020, Yua released her first video, a self-introduction.
On 30 September 2020, the tenth wave made their debuts in a stream relay. Yua was the last to debut on bilibili.
2020
On October 19, Yua reached 10,000 followers on bilibili.
Fans
Yua's fan medal tag is "悠yo球" (Youyo ball).[5]
Trivia
Color:

#C0E0F0

Species: Alien[1]
Place of origin: Universe[1]
Special skill: According to the teacher's expression she can determine if the next question will require to be answered[1]
Likes and dislikes
Likes: Animated films[1]
Dislikes: Waking early[1]
Trivia
Her original home didn't have freshwater, food or grass.[2]
Media
Unofficial
悠亚的宇宙飞船 – Yua's spacecraft bilibili channel (fan group)
#民创悠品#- All fan creations tag
#悠亚地球食战纪# – Delicious food photos and reviews tag
#悠亚不想一个人看动画# – Animation-related projects tag
#企鹅卟啵# – Selfies tag
#企鹅怎么叫# – Voice pack reviews tag
Further Reading
悠亚 – Moegirl Encyclopedia (CN)
悠亚(ユア/Yua)- Unofficial NIJISANJI Wiki (JP)
References